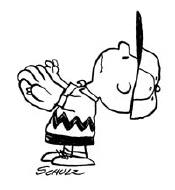 Editor's Pick:
STANDING ALONE

He stands at the plate
with his heart beating fast.
The bases are loaded
the dye has been cast.

Mom and Dad cannot help him
he stands all alone.
A hit at this moment
would bring the boys home.

The ball nears the plate
he swings hard but misses.
There's a groan from the crowd,
with some boo's and some hisses.


A thoughtless voice cries out,
"Strike out the bum!"
Tears fill the boy's eyes,
the game's no longer fun.

Parents and spectators
with faces of stone;
Remember, he's just a boy
who's standing alone.

Please open your heart
and give him a break.
For it's moments like this,
a great man you can make.

So keep this in mind,
if you hear someone forget.
He's just a small boy
and not a man yet.

Author unknown - Used by Twin Falls Traveling All-Stars

-- Submitted by Kade Hansen from Twin Falls, Idaho
e-mail: kadeh@pmt.org

THANKS, KID
Thanks kid, for being the reason,
I get to coach another season.
Who was more nervous that very first day?
You just learning, or me who must teach you to play.
Out on the diamond I feel like a kid again,
Yet after each practice and game, my age settles back in.
My muscles would ache and bones feel sore,
A little ice and some ointment and I'm better than before.
A few moments each game I would steal far away,
Back to a time when I could still play.
The boyhood memories came rushing back in,
Just like a good slider complete with the spin.
That ol' team was a rough and tumble bunch,
We would play all day and never eat lunch.
We would play anyone, anytime, anywhere,
But no other team could give us a scare.
That old sandlot is still there today,
Now sadly the boys no longer come to play.
The grass grows tall where home plate once stood,
A long forgotten landmark in the old neighborhood.
"Coach, hey Coach" I hear from a place far, far away,
"Are you going to pitch to me sometime today?"
Suddenly, I am standing back on the mound,
Surrounded by my players just milling around.
I am back to the game, with you at last,
My boyhood memories tucked back in the past.
"Hey Coach, everything alright" I am asked with a grin,
"Just perfect kid. Hey, thanks again."
-- Submitted by Joe Kyle from Cincinnati, Ohio
e-mail: thekylegang@juno.com

His team didn't win today,
but still it was all right,
for little "Johnny" did his best
and put up quite a fight.

He missed the pass, yet tackled hard,
the team fell to defeat,
Yet little "Johnny" smiled his smile
his little body beat...

Mother proud - naturally!
Thinking "Oh, this terrific kid of mine"
as he ran into his Dad's arms,
he heard, "Better luck next time!"

"Danny didn't fair so well,
as he walked into the crowd
his parents' words were harsh
their voices cruel and loud.

"You missed that pass! Where was your head?"
they said with a frown.
With saddened eyes, "Danny" looked up at them.
"I'm sorry I let you down."

How sad it is to realize
there are those who still can't understand
that a kid is just a kid
and a game is just a game.

So, Mom and Dad, please remember
in all you say and do,
That little child is listening
and needs support from you!

-- Submitted by Nancy Cole from Middletown
e-mail: Ncole@pahousegop.com

DON'T TALK TO ME!

They began in Cincinnati with a loss in their debut.
And things looked bleak when the loosing streak extended out to two.
With a quarter of the season gone, THE TEAM was one and three.
"But if you're looking for the negative", they said, "Don't talk to me"

As the Country stood united, THE TEAM united too,
And proudly wore the uniform of red and white and blue.
No separate introductions, TEAMwork was the key!
"If you're gonna count us out," they said, "Hey man, Don't talk to me!"

They began to win and half way through, THE TEAM was four and four.
But the skeptics still insisted "They won't win many more."
When the mighty Rams limped from town with a hard fought victory,
THE TEAM said, "If you think we're done... "Hey man, Don't talk to me!"

THE TEAM rolled through the next six games and made it to the show,
Division Champs, a first round bye, then the Raiders in the snow.
The nonbelievers said THE TEAM was lucky as could be.
Again THE TEAM responded with... "Hey man, Don't talk to me!"

THE TEAM moved on to Pittsburgh with the Steelers picked by ten.
But sixty minutes later, THE TEAM had won again.
And thus became the Champs of the entire AFC.
"So if you bet and lost" they said, "Too Bad ...Don't talk to me!"

The talk shows said, "THE TEAM played well to make it to the dance.
But against the Greatest Show on Turf, they didn't stand a chance."
The scribes all wrote "It won't be close, the Rams have too much speed."
THE TEAM just said "Then talk to them ...Don't talk to me!"

The introductions set the tone. They played their hearts out as a TEAM.
And they got the ball with seconds left, tied at seventeen.
The announcer cried, "With no time outs, THE TEAM should take a knee."
THE TEAM shot back their answer ..."Hey man, Don't talk to me!"

In disbelief the skeptics watched the field position change.
Play by play THE TEAM was driving into field goal range.
They shocked the world, when they kicked it through to win the game by three.
Still don't think that TEAMwork wins? "Please ...Don't talk to me!"

-- Submitted by RW Brown from Whitinsville, MA
e-mail: bobsaysso@gtcinternet.com

LAST DANCE

She takes Center Stage,
as if being released from a cage.
She hits her first pose,
and that's when she knows.
This is it, her dream come true!
Still, it all seems like brand new;
The sound of the crowd,
it never has been so loud.
The heat of the spotlight,
makes her costume feel just a tad bit too tight.

The curtain rises and the music begins.
She floats across the stage,
like a dolphin with newly found fins.
Gracefully dancing as best she could,
knowing that again, she never would.
Just as the music came to a close,
one lonely tear fell from her nose.
The audience at their feet was enough to tell,
she had done incredibly well.

After that performance, her life was complete.
For she has conquered the greatest feat.
The doctors had told her that she was too weak,
and that her future looked very bleak.
All she had to hold on to was that last chance,
it was to be her last dance.
That night as she drifted into an eternal sleep,
all she could feel was the completion of that last leap.

-- Submitted by Victoria from Des Plaines, IL
e-mail: Bella111786@aol.com

THE GAME OF PASSION

In this scheme of deep and thrilling passion,
I face all my foes, my battles, my wars;
Wars of defense and haughty aggression,
While my heart becomes restless, beating its core . . .

Sweat across my brow hotly burns my skin.
No other expression or word or thought
Can tell the pleasure of my soul within;
For 'twas this passion from where joy was brought.

So with this dry tear in my eye, I stand . . .
(Lord, what will my heart -- a passivist -- bring?)
This round of dear affection in my hand,
Will soar so proudly, slicing the pale string.

The time has come, I am now whole, in all,
As I play my sweet game of basketball.

-- Submitted by Karen from Toronto, Ontario, Canada
e-mail: azngoldenk@yahoo.com

BASKETBALL

Basketball is the sport of kings,
From the toss of the jump ball
to when the buzzer rings.
In basketball you have to try your best,
Once you do you'll beat all the rest.
If you want to win, never lose hope,
When there is a problem, learn to cope.
Take your shots with confidence,
Never with incompetence
Jump up for a rebound with all your might,
Don't ever do it in a state of fright.
Ask for help when you're in need,
For if you don't, you'll never succeed.

-- Submitted by Nick Schuelke from Rockford, MI
e-mail: Bluboy1988@chartermi.net

HOW I FLY

I am a skateboard
Flying through the air.
Doing anything because
I don't really care.
Flipping and grinding
With all my might.
Once I catch some air,
I know I'm in flight.

Spinning and twisting
With my natural-born flair.
Swirling like the blade
That is cutting my hair.
Being watched by my fans,
While doing my best.
With the sweat running down my chest,
I know in my heart
I'm better than the rest.

But I have to confess
Why I am the best?
It is the heart that my God gave me
Planted in my chest.

-- Submitted by Brian M. from College Park, MD
e-mail: bluzlick@msn.com

CHEERLEADER

A cheerleader is special and shows great pride,
With poms in her hands and a megaphone by her side.
A smile on her face and spirit in her heart,
She leades the crowd with moves that are sharp.
Add In jumps and stunts and chants to yell,
Being a cheerleader is really quite swell !!!!

-- Submitted by Kim Turlich - Vaughan from Belle Chasse, LA
e-mail: bcycheer@cmaaccess.com
THE SUPERBOWL

Two teams who are the best
Will play each other and be put to the test

A Giant year of injuries and plays observed
Did he really give him the sack he deserved?

Fired coaches, primadonnas who play
Moss and Green grass will not be on the field today.

The winners won't play on the Frozen Tundra that day
And hope 49 seconds is enough for a play

You bet a Buc and pray your team will win
and deliver the Parcel without chagrin

You'll watch your team Ram through the line
Like a Bear or an Eagle ready to dine.

A lover may take your wife and Steel'er away
And Pack'er in a Jet to take her today

For when it's all over and the teams take their toll
You know you are ready for the Superbowl.

-- Submitted by Mary G. from Tampa, FL
e-mail: mglpn1206@hotmail.com

THE HOCKEY GAME FIGHT

I was at the hockey game, it sure was a sight,
until someone pushed and started a fight.
They threw the equipment to the side,
as the crowd noticed they were in for a ride.
The refs came and broke it up,
one kneed the guy right into his cup!
As they went to the box, the crowd cheered
and one hockey player said he's growing a beard;
isn't that wierd?

-- Submitted by Kenny from Canton, MI
e-mail: kenken2k1@msn.com

GOING HOME

Walking across the cool green grass in early December,
Memories of football cross my mind.
Memories so special but so fragile to hold.
Looking at the worn and torn up field from our long practices.
The sun gazes over the long trees.
The season is over and it is time for me to go home.
Trying to walk away, the field pulls me back as if I can't leave.
Pictures of us practicing like soldiers getting ready for battle
with our general leading us. But it is time to go home.
Time to move on. The thing is though,
my heart and my soul is already home.
I am home.

-- Submitted by Josh from East Berlin, CT
e-mail: Jlong83@hotmail.com

I play the game I play it smart,
My energy comes from tha heart,
I use my head, I use my feet
*Why* cause I'm 100% athlete.

-- Submitted by Kate Lambert from Harrisonburg, VA
e-mail: Indahoop23@hotmail.com

HOME RUN
To my Dad for taking me to my first ball game in 1967.
Thanks!!

Across the seams the stitches crawl.
Only to hear an umpire's call.
Propelled in motion though the air
within white lines a hit was fair.

Over the fence it soon would carry.
Screams were heard through hill and valley.
A youth reached as people pushed and shoved.
He closed his eyes as the ball nestled in his glove.

The runner rounded the bases and advanced the score.
The batsman doffed his cap as the crowd applauded more.
He held the ball tightly within his grasp.
It was scuffed lightly from the infield grass.

It rests safely against the glow of a burning candle.
Where it is seen high and proud above the fireplace mantle.
It's been passed down from father to son.
Youthful eyes stare till the day is done.

In time no one knew from where it came.
It will always be thought of from the deciding game.
Home Run !

-- Submitted by Genaro Urso from Jacksonville, FL
e-mail: genaro008@aol.com

THE LOVE OF THE GAME

The Time
The Effort
The pain
The Passion
The Strength
The Courage
You sacrificed it all for
The love of the game

Happiness
Spirit
Dreams
Success
Respect
Enthusiasm
You gained it all from
The love of the game

-- Submitted by H. Harper from Burlington, ON, Canada
e-mail: goldielocs25@hotmail.com

MEDALS, NUMBERS AND JERSEYS

The number of medals received means nothing,
They are pieces of metal attached to a string.
The number of internal wars fought and won means everything.
It's all in the strength of your dream.
The number or brand of your jersey says nothing,
nor the whimsical name of your team.
It is the size of the fight in the player,
it's how much you're willing to risk for a dream.

-- Submitted by Gely from Brownsville, TX
e-mail: gelysayslaterz@aol.com

THE SWIMMER

She stands so tall over the water, higher than all
Diving so smoothly, slicing in like a knife
She carves her strokes in perfect flight
Reaching over the surfaces, she breathes in air
Fast through the water she rips and tears
She's ahead of the others, the audience will cheer
She flips and heads back, now the finish is near
Pulling and straining with all of her might
She races to the end never giving up the fight
As she reaches the wall, she's beaten them all!

-- Submitted by Carol Merolla from Johnston, Rhode Island
e-mail: AFD10@home.com

We look at the scoreboard, it's the ninth inning
We all are praying in hopes of winning
And now our best chance walks up to the plate
These next couple pitches will decide our fate

He looks at us all and gives us a smile
Then says the next pitches will be worth all the while
He takes the next pitch because it's not his type
But then he frowns as the ump says " One strike!"

He gets back up to the plate and swings at the next pitch
But it's too late for he has whiffed
Now the count is 0-2
He takes to one knee and ties his shoe

He has determination in his eye
If he misses the next pitch, he knows he will die
But he belts the next pitch as it flies in the air
It goes over the fence still in mid-air

We jump up and down trying to be tame
The score was 10-9 in the Championship Game

-- Submitted by Jordan Marquez from California
e-mail: SurferCA24@aol.com

CHILLY WILLY OR THE DAY
SATAN CAUGHT A COLD

A great uproar went all over the land,
one more intense than ever seen before,
beyond all the expectations of most,
this one made most people hit the floor

Even God himself couldn't have created such a miracle,
and why would he if he could,
but the event that shook the world,
is to this day not understood

By now you may have heard,
but again it is quite a surprise,
what changed the world forever,
and made people open their eyes

To end this torrent torment,
from Tokyo to the small city of Dover,
if you hadn't guessed it, the Cubs won the world series,
and hell has just frozen over!

-- Submitted by Michael Hainline from Rockford, OH
e-mail: korbendallasi@hotmail.com