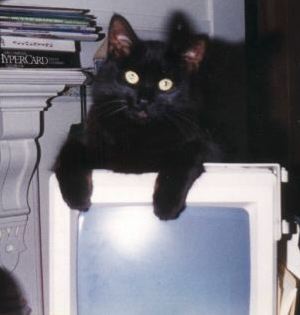 I think it's fair to say that poets are a strange breed, their own "race" indeed. They're often tortured souls who don't write rhymes for a hobby, but rather give birth to them. Anyone who has gotten up in the middle of the night to put words down on paper, not knowing from where they came, will understand what I'm talking about. Writing prose with ink from the heart is very much akin to what giving birth used to be like ... you have no idea what the baby is going to be until after it is born.
(Meet my fellow editor, "Spook")
I never thought of myself as a poet, but my father, the late E. E. Nichols, definitely was one. He used to write the most heart-wrenching tributes to my mother before they were married ... and after they were divorced. She saved every one of them. He could melt her heart with love poems, and also tear it to bits with sad ones. Though both of these wonderful people died years ago, I still have those poems in envelopes labeled in my mother's hand ... "From Papa". I understand why she kept them.
As a child I wrote sonnets and quatrains in school, experimenting with the sounds of words ringing in my head and rolling off my tongue. But they were only that. Words. It wasn't until one year after my father died that I experienced my first poetic "exorcism." I arose in the wee hours, headed for the old typewriter that seemed to be calling my name in the dark, and sat there hitting keys for hours as a four-page, single-spaced poem flowed through me and onto the paper. It wasn't Pulitzer material, but when it was finished, I felt a sense of relief. My dad was gone and I finally accepted it. I was 20 years old.

Over the years, I have grown quite fond of reading good poetry, especially the old greats like Omar Khayyam, Thomas Gray, Shakespeare, Oscar Wilde ...though he wrote mostly prose, Robert Frost, Elizabeth Barrett Browning, and so many others. Men who quoted poetry to me always got my attention and I found I sought them out, much as a lonely soul seeks out the face of its long-lost love in crowds.

This website was created out of that sense of need, the need to give birth to messages from the soul, and it is heartwarming to see what a wonderful response it has gotten. I have found many kindred spirits out there.The poems have come in from as far away as Abu Dhabi, Australia, The Philippines, England, India, Canada and Kuala Lumpur. And interestingly, they usually come in the middle of the night, notwithstanding the time difference.

I hope this site will continue to grow and will be enjoyed by many. It was meant to be enjoyed. So read along with me now and return often in the months to come. My best wishes to all the poets out there --

Nan Nichols Crussell

DISCLAIMER:
The Poets' Corner does not claim to be able to verify all copyrights. If anyone should find a copyright violation on any work submitted to this website, please contact us and we will remove it.